Check out …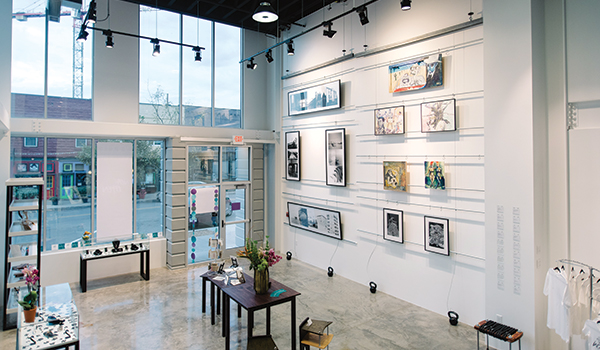 … three new art galleries that have recently opened in Des Moines—evidence (as if we need it) that the local arts and cultural scene is continuing to thrive and grow. In the East Village, painter Carly Zudendel opened Moxie (pictured) last fall with the goal of showcasing both emerging and established artistic talent and removing barriers for people new to the art-buying world. Housed in a light-filled contemporary space, Moxie shows and sells a variety of works, including paintings, jewelry, photographs, prints, letterpress greeting cards and furniture, from a rotating lineup of local and national artists. (505 E. Grand Ave.; 515.201.4111; moxiedsm.com)
Artisan Gallery 218, which opened last November, occupies a warm, inviting space in West Des Moines' Valley Junction. The gallery features juried consigners as well as the works of the four founding artist-partners: well-known painter Mary Kline-Misol, fine arts photographer Victoria L. Herring, jewelry artisan Louise Mcilhon and vintage furniture specialist Anne Temple.
In addition, the owners present workshops, classes and special events at the gallery. "All of the artists at Artisan 218 strongly believe in sharing our knowledge with the community," Kline-Misol says. (218 Fifth St., West Des Moines; 515.255.0218; artisangallery218.com)
The Garage at Salisbury House, which opened Jan. 22, is the location as well as the name of the city's newest gallery. The inaugural exhibit focused on portraits by Stephanie Brunia, Catherine Dreiss, Larassa Kabel and others, while the next exhibit, opening April 1, will explore how Drake Stadium's history intersects with broader events in American history. Access to the gallery is available as part of a regular paid tour. (4025 Tonawanda Drive; 515.274.1777; salisburyhouse.org)
Now and Then
All the construction around town is noisy testimony to the fact that Des Moines is constantly changing. The same was true a century ago. The Polk County Courthouse was just 3 years old and surrounded by low-slung commerce in 1909 when the 11-story Fleming Building rose to the northwest. Three years later, the 12-story Savings & Loan Building shaped the view that endures today.
Their appearance hasn't altered, but these local fixtures have seen changes within and around them. The courthouse was remodeled in 2014 for $2.5 million. The S&L Building is now bustling as the Midland Building, and the Fleming office building was reborn last year as a 100-unit residential property. Once the tallest office buildings in Iowa, both are now deep in the shadow of the 345-foot Financial Center to the west, which was also briefly the state's tallest building when it was completed in 1973.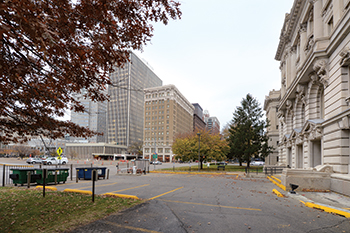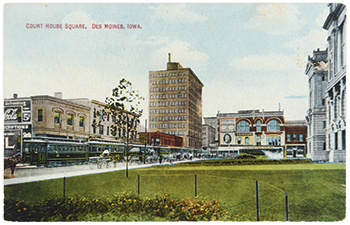 Postcard courtesy of Anthony Horvath
Photograph: Duane Tinkey