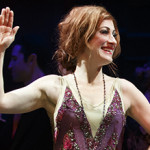 Alison Ewing grew up in Mason City, where her first theatrical role at age 10 was in "The Music Man," by Mason City's own Meredith Willson. Today, she's back in Iowa with the touring musical "Cabaret," which opens tonight and runs through Sunday at the Des Moines Civic Center.
"It's an honor to bring such an important piece to my home state," says Ewing, who graduated from Mason City High School in 1992. "There is also nothing like the type of hospitality and reception you get when you perform for Iowans!"
Ewing's career has ranged from voice-overs to Broadway, from the San Francisco Bay Area (her current home) to a French-language production of "Cabaret" staged in Paris.
In the 1972 movie and on stage since 1966, versions of "Cabaret" stem from a 1939 novel, "Goodbye to Berlin." The story intertwines the lives of performers and patrons in a Berlin nightclub as the Nazis rise to power.
The show is presented by
Des Moines Performing Arts
. Tickets: $35 to $111 on
Ticketmaster
or at the Civic Center box office.