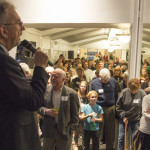 Like a late-night radio DJ, the Des Moines Community Playhouse is playing requests: At the season announcement event, we learned that upcoming shows include the most requested musical and the most requested drama in surveys of theater patrons, according to Executive Director John Viars, who announced the lineup.
The musical? "West Side Story." And the drama: "Steel Magnolias." Also in the lineup: a new stage version of "The Great Gatsby," "Rock of Ages," "The New Mel Brooks Musical Young Frankenstein" and the family show for the holidays, "Roald Dahl's Willy Wonka."
For season ticket information: 515-277-6261 or dmplayhouse.com.