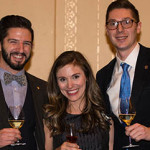 Sommelier Josh Buchsbaum edged out Ben Nelsen in the second annual Iron Somm competition recently at The Temple for Performing Arts. Nelsen was the defending champion in the sommelier showdown, sponsored by Thrivent Financial. Buchsbaum is affiliated with the restaurants Proof and Lurra Cocina, Nelsen with Splash Seafood Bar & Grill.
The sellout crowd of 124 diners also won — big time. In a grand ballroom setting, we enjoyed a lavish four-course meal, with each course prepared by a top local chef. The sommeliers each chose a wine to pair with every course. It was up to the audience to decide which wines best complemented the food — and that's where the good times really took off. The tastings were "blind," meaning not only were we not told what varietals we were tasting, we didn't know which somm picked which wine. Great conversations ensued.
Because these two pros oversee the most dashing wine lists in town, it's not surprising that some of their picks veered well off the beaten path. The Poggio di Bortolone Frappato 2014, a bright and shimmery Sicilian red chosen by Nelsen, proved an ace pick with the refined-rustic potato and sausage-stuffed pasta prepared by Derek Eidson of Centro.
Another showstopper: La Palazzetta Brunello di Montalcino 2009, an elegantly aged Tuscan chosen by Buchsbaum to complement spoon-tender braised short ribs prepared by Mike Holman of Catering DSM.
For the dessert wine, the delightfully unexpected Pineau des Charentes was served alongside a warm oatmeal cake created by Christina Moffatt and Holly Evans of Crème Cupcake. (If you've never tried Pineau des Charentes, read all about this fortified wine in my recent dsm article.)
The Iron Somm competition is produced by Winefest Des Moines, which made a $25,000 contribution Saturday to Bravo Greater Des Moines in support of local arts and culture.
Look for more Winefest fun in the coming months, including a series of Wine Flights — tastings and small-plates pairings at local restaurants. And mark your calendars for Winefest 2016, June 4-11. Find out more at winefestdesmoines.com.