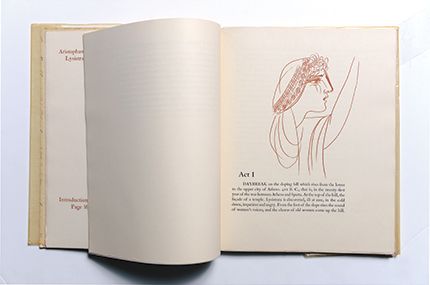 By Christine Riccelli
If you haven't yet viewed the new exhibit at the Des Moines Art Center, put it at the top of your to-do list. "Arts & Letters" explores intriguing connections between literature and the visual arts across cultures and time periods. It's easy to lose yourself in the exhibit — much like losing yourself in a good book.
You'll not only find centuries-old hand-illustrated books and manuscripts but also contemporary works — ranging from paintings to digital video — that draw on books as their inspiration or that celebrate the act of reading itself. Many of the exhibit's 70 objects are so captivating that it's hard to pinpoint highlights. But here's a try: a video meditation on Ralph Ellison's "Invisible Man," which evokes the story's central metaphor; Salvador Dali's psychedelic illustrations for Lewis Carroll's "Alice's Adventures in Wonderland;" Tim Rollins' bright multimedia ode to Shakespeare's "A Midsummer Night's Dream," consisting of watercolor, fruit juices, collage, mustard seeds and book pages on canvas; and a reproduction of a Parisian bookstall by Mark Dion.
The exhibit also showcases rare and splendid texts on loan from the Salisbury House & Gardens' library, notably the "Kelmscott Chaucer" from 1896; Aristophanes' "Lysistrata," illustrated by Pablo Picasso; and James Joyce's "Ulysses," illustrated by Henri Matisse.
"Arts & Letters" runs through May 1. Don't miss it.