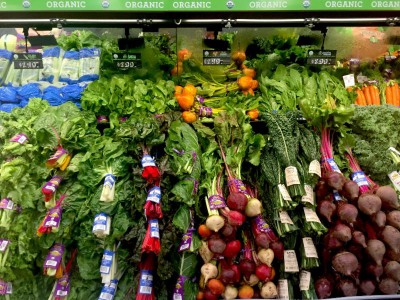 By Wini Moranville
Fresh Thyme Farmers Market, a specialty grocery retailer in the Midwest, opened its first Iowa store in West Des Moines on March 23. Here are five highlights that I gleaned on a preview visit the day before:
 It's ginormous and joyful. The 30,000-square-foot retailer devotes nearly a third of its space to strikingly displayed produce, making it a colorful, bountiful place to shop.
Prices are right. The organic and traditional produce I spotted was competitively priced: Whole pineapples for 99 cents, fresh herbs for $1.88 a package, bunches of organic beets for $2.49. Think Whole Foods quality at Trader Joe's prices.
Sausages galore. I don't think I've ever seen so many sausages in one place. The store offers more than 20 varieties, including off-the-beaten-path finds such as Portuguese linguisa sausage and garlic-basil sausage.
Duck, duck, goat! I was thrilled to find frozen skin-on duck breasts at a reasonable price (around $7 each); also look for frozen ground elk, goat, antelope and venison.
 A heyday for non-cooks. Ready-to-cook entrées include stuffed fresh chicken, pork chops and poblano peppers, with lots of ready-to-reheat sides, including roasted veggies, creamed corn and mac-and-cheese.
The only slight disappointment was the cheese section, with its prepackaged offerings. Local heroes like The Cheese Shop of Des Moines and Gateway Market have us spoiled with their extensive hand-cut-to-order options.
Fresh Thyme Farmers Market is at 2900 University Ave., West Des Moines; 515-635-6016; open 7 a.m. to 10 p.m. daily.