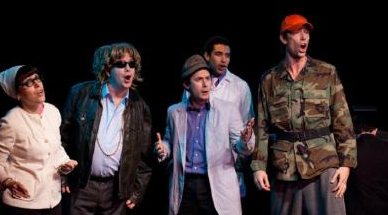 When the cast of "Broadway's Next Hit Musical" goes on stage, they have no idea what show they're be performing. It hasn't been written yet. Not the songs, not the story. They make it all up as they go.
This musical improv troupe, which includes Dowling Catholic High School alum Robert Z. Grant, has been inventing songs and stories for more than 15 years, delighting audiences from coast to coast.
It's one of two improvisational theater events coming up at the Temple for Performing Arts: "Broadway's Next Hit Musical" is April 12-17, and "The Improvised Shakespeare Company" is April 28-30. Both start with an idea from the audience and result in shows crafted right before your eyes.
"The key to successful improv is listening," says Grant, who graduated from Dowling in 1987, "and you have to be acutely aware of everything that is happening."
"Part of the fun," he says, "is solving the problems inherent in making it all up on the spot." The show was last "on the spot" here three years ago, when it earned high praise from local crowds.
Grant recalls Iowa as "a fantastic place to grow up," adding, "I have had so many opportunities since, and the confidence to do it came from my Iowa upbringing."
As a result, he says, "I cannot describe how thrilling it is to be able to bring … a handful of my wildly talented New York friends home to Des Moines to share some laughs." Get your share of those laughs from the musical or the equally inventive faux Shakespeare with tickets and other info here.