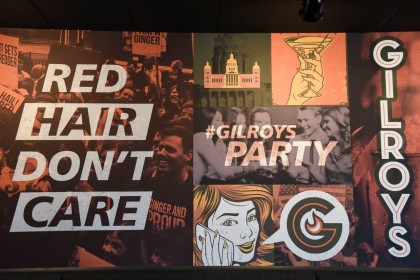 By Wini Moranville
Can the former Jimmy's American Café location finally become the hotspot that it once was? Since Jimmy's closed in 2000, a few restaurants have tried and failed; the spot seemed cursed.
If anyone can make it a success, Scott Carlson can. Not only does Carlson have proven chops in the industry (he owns Court Avenue Brewing Co. and Americana), he has done what other occupants mostly failed to do: He's entirely updated the building. With overhauled black booths, plus caption-forward artwork splashing up the otherwise subdued black-and-natural color scheme, the space is no longer stuck in the "Jimmy's warmed over" rut of the last 15-plus years. It is now Gilroy's Kitchen + Pub + Patio.
The menu opens to "bar-food plus" choices, including burgers, sandwiches, comfort-food entrées (e.g., meatloaf, pot pie, salmon fish-and-chips) and a handful of steaks and salads.
A quick recent visit netted a terrific pork tenderloin sandwich — thick cut, with great breading, but serious meat, too. The breaded cauliflower appetizer satisfied as well. Falling short was the cauliflower salad, a boring side option to the sandwiches that consisted of chilled cooked cauliflower and few red pepper bits. (Was there supposed to be a dressing, perhaps?)
I'm looking forward to future visits — Jimmy's was once that "I don't want to cook but I don't want to splurge, either" Tuesday night go-to. Gilroy's is set to fill those shoes.
Gilroy's is at 1238 Eighth St., West Des Moines; 515-809-1727.
Wini Moranville covers food and dining for dsm. Follow her at All Things Food – DSM Wini Moranville.