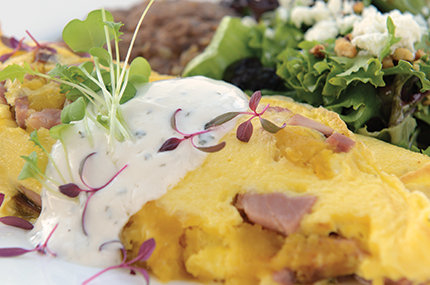 By Wini Moranville
Le Jardin Begins Saturday Brunch Service: Fans of Le Jardin's Sunday Brunch — French-focused crêpes, omelets and salads — will be glad to know that Saturday brunch service has begun. The menu is somewhat smaller in scope than the full Sunday brunch menu, but a children's menu has been added. Le Jardin is at 2815 Beaver Ave.; 515-255-5787. Related: See my brunch story in dsm magazine.
Pure Pork at Proof: Back in the '80s, when I worked in the restaurant industry, you couldn't give a pork dish away. Fine dining meant, above all, beef. Today's chefs, of course, are all over the meat. For proof, check out Proof's Pure Pork Awesomeness Dinner. At this event, May 19 at 6:30 p.m., chef/owner Sean Wilson is collaborating with Atlanta-based chef Kevin Gillespie, author of the book "Pure Pork Awesomeness: Totally Cookable Recipes from Around the World." The evening includes appetizers, four courses of "pork-a-licious" food, plus wine and cocktail pairings. Cost is $135 per person and includes a copy of Gillespie's book, plus a $10 donation to the Food Bank of Iowa. Proof is at 1301 Locust; call 515-244-0655 for reservations.
Flatbreads Are Back at Aldi: A while back, I told dsm magazine readers about the wonderful flatbreads at Aldi's. Of course, the trouble with Aldi's is that something you fall in love with one month may not be there the next. That was the case with these flatbreads. I haven't seen them for months, but now they're back! Get them (from the freezer case) while you can. My favorite is the mushroom flatbread: An assortment of mushrooms and cheese tops a crisp, cracker-like crust, with a little crème fraîche to add tang. Stock up while you can.
Wini Moranville covers food and dining for dsm. Follow her at All Things Food – DSM Wini Moranville.