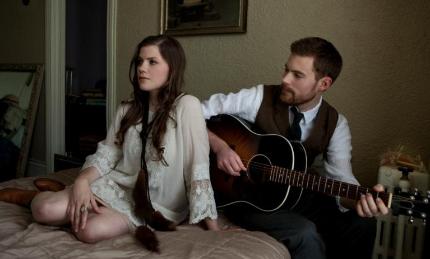 By Larry Erickson
Have you heard The Well Pennies? The husband and wife duo of Bryan and Sarah Vanderpool met in Boston, gained a national following while based in California and are now living in Des Moines, Sarah's hometown, where they're developing a recording studio and some interesting new projects that highlight their harmonies and creative vision.
One of those, their "youth orchestra project," involves concerts with high school musicians to give kids a taste of performing with pros. Interested? They'll take the stage with an orchestra from Valley High School Sunday, May 1, in the Des Moines Social Club's Kum & Go Theater.
Sunday's concert will include The Well Pennies' stunning rendition of "All My Loving," from their album of re-imagined songs by The Beatles. They'll also perform favorites from their more recent collection, "Endlings." That album was inspired by the extinction of a species of tiger, Sarah says.
"Each song focuses on something we don't want to lose in life," explains Sarah, 36. She and Bryan often perform with an eclectic and changing backup band — banjo, guitar, mandolin, piano, violin and upright bass –a group of musicians who will be joining them here shortly, Sarah says.
Want to escape for a bit online? Search "The Well Pennies"and turn up the volume. You'll be rewarded with sweet harmonies, innovative originals and engaging covers. (That's how we happily spent a chunk of time last night, and we'll be back for more).
For Sunday's performance, the theater opens at 6 p.m.; music kicks off at 7 p.m. Tickets are $15 in advance here; $18 at the door.