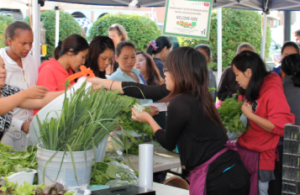 Our long, miserable wait is over. Farmers markets return at last with all the tastes and smells and sounds we love.
First up: Today (Thursday), join Historic Valley Junction's Farmers Market and catch Music in the Junction. Some 100 vendors and one fun-loving party band are expected. Stroll Fifth Street and savor the flavors from 4 to 8:30 p.m. Today's music: The Punching Pandas. Next week: Dick Danger.
Then this: Saturday mornings are once again worth waking up for. The Downtown Farmers Market returns to the Court Avenue district May 7, 7 a.m. to noon, with oodles (we checked; it's oodles) of vendors purveying fresh herbs, flowers, eggs, cheese, baked goods and Iowa-raised meats, plus other stuff that frankly mystifies us. Learn more about all of it here: desmoinesfarmersmarket.com.
Want more? OK, coming up May 21 is the first farmers market of the season for Global Greens, the farm-to-market program managed by Lutheran Services of Iowa. Global Greens provides opportunities for refugees with agrarian backgrounds, growing and selling produce from 9 a.m. to noon on Saturdays at 3200 University. Details are here.