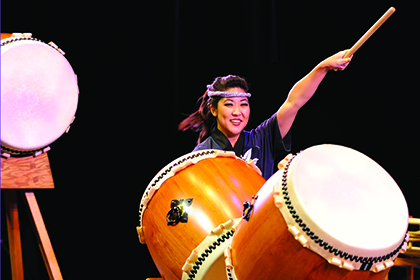 The diversity of California is front-and-center at the Des Moines Civic Center this weekend with Japanese drumming from San Jose on Saturday followed by the legendary Beach Boys on Sunday.
* At 1 p.m. Saturday (May 14), experience the rhythmic power and harmonic depth of taiko, a traditional Japanese drum. The Asian-American ensemble San Jose Taiko strives to create new dimensions in music and movement onstage, embellishing this historical art form with the beat of world rhythms, including African, Brazilian and jazz. Get tickets ($10) and info here.
Special note: San Jose Taiko will conduct an interactive family workshop Thursday, May 12, at 6 p.m. and another on Friday for persons with impaired hearing, who can experience this music through the drums' powerful resonance. Workshops are just $5. Get details here.
* Act now (or better, yesterday) if you want to snatch the last Beach Boys tickets — and bring binoculars. Other than a few random singles, the available $70 seats are waaay in back. But the sound will get there and the mood is contagious. So put on your dress sandals and enjoy the show. The music starts at 7:30 p.m. Sunday (May 15), squeezing 50 years into two hours. Start here.