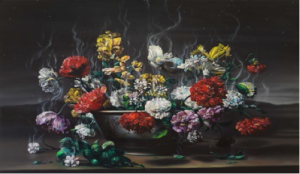 Celebrated British artist Glenn Brown's first solo exhibit of its kind in the United States will open at the Des Moines Art Center on May 21. Prior to the opening, Brown will be here to discuss his art in a presentation May 19 at 6:30 p.m. in the center's Levitt Auditorium. For reservations and details, visit the Art Center's website.
A national coup for Des Moines, the exhibition surveys the scope of Brown's work and will include 34 paintings, sculptures, prints and drawings, spanning his career. The versatile artist is most famous for using Photoshop to digitally re-imagine paintings by past masters, altering colors and forms, then painting his perception of the image.
The exhibit, "Glenn Brown," is organized by Jeff Fleming, director of the Des Moines Art Center, who will join Brown in the May 19 presentation.