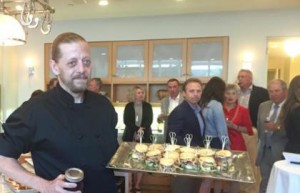 By Wini Moranville
Last week, I had the honor of judging the Ooey, Gooey, Saucy and Savory Pork Challenge, hosted by the Iowa Pork Producers for patrons of Winefest, the food and wine blowout held each June.
Jammie Monaghan won with his delectable buttermilk biscuit sliders, which were filled with pecan-shell-smoked pork leg, fried onions and a spiced rhubarb jam. (The latter hailed from his mother's pantry.)
So just who is this Jammie Monaghan? He's been quietly working around town for decades; he started his career washing dishes at Gino's and has held such positions as chef de cuisine at Embassy Club and executive sous chef at Mondo's. He's also had stints in the kitchens of Splash and, most recently, Malo.
"Everyone in the industry knows me," Monaghan agrees, "but I'm not really a front-page guy."
That's likely to change soon: Chris Diebel recently hired him to be the executive chef at Diebel's upcoming restaurant, Bubba–Southern Comforts, which will open in late July in the former Raccoon River Brewing Co. site at Tenth and Walnut streets.
If you want a taste of Monaghan's cooking before Bubba opens, you'd do well to head to the Iowa Pork Producer's Lawn Party (June 10, from 2 to 5 p.m.) during Winefest. There, you can sample Monaghan's winning pecan-shell-smoked sliders while enjoying Iowa-made wine and beer along with eats from local food trucks. Find out more at winefestdesmoines.com.
Wini Moranville covers food and dining for dsm. Follow her at All Things Food – DSM Wini Moranville.