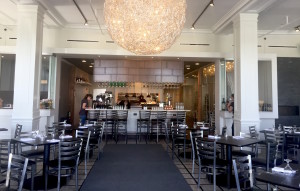 By Wini Moranville
What struck me most about my inaugural visit to downtown's +39, which recently opened, was the airy, bright and surprisingly elegant ambiance. Many of today's trendiest restaurants–especially those in Western Gateway's "21st-Century Restaurant Row"–have a similar spaciousness, though sometimes marked by that sparse urban-industrial feel that's energetic yet commonplace.
What about +39 felt so different? Certainly, the unclothed tables and metal chairs stuck to trendy slate-and-black colors. Yet the room's molded columns and wood-trimmed walls, painted wedding-cake white, mixed a certain Edwardian grandeur into the postmodern edginess. The unmistakably modern chandelier–a massive white sphere of tangled aluminum wire dotted with fairy light–commands the room.
Adding a certain Euro-allure was Alessandro Andreoni, the stylish Italian-born co-owner, who circulated the room and graciously indulged our attempts at speaking Italian. Andreoni opened the original +39 in Ames in 2013. (The name is the international dialing code for calls to Italy.)
The menu encompasses back-to-basics Italian dishes: pizza, pasta, grilled and roasted entrees, plus a few American standbys (burgers, Caesar salad). Thinking I would dine light, I ordered the chickpea salad with grilled shrimp, arugula, artichokes and feta. The salad proved fresh and bright, but the portion was surprisingly massive in that generous Italian-grandmother way. My dining companion enjoyed a plate of assorted cheeses, cured meats and olives. The stars of that platter included a sweet and mild Gorgonzola cheese and the mortadella, Italy's luscious, fat-studded cured meat. We took one-third of the generous platter home.
Find +39 at 1430 Locust St.; 515-421-4500; plus39italian.com.
Wini Moranville covers food and dining for dsm. Follow her at All Things Food – DSM Wini Moranville.