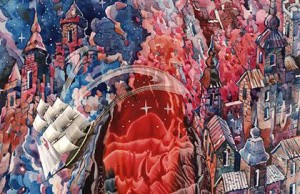 Starting in June, you'll not only be able to check out books from the Des Moines Public Library downtown, but check out local artists as well. No, you can't take them home with you, but you can view their works at the new Art Gallery at Central Library, located on the second floor.
The inaugural exhibit will feature Judith Eastburn, whose striking photographs have been showcased in dsm, and abstract painter Igor Khalandovskiy. Both artists will answer questions and discuss their work at the opening reception June 1, from 6 to 8 p.m. Exhibits will rotate about every two months.
While the Art Gallery at Central Library is new, it represents the revival of a 100-year-old tradition. In 1916, a gallery opened in the former main library building, in partnership with the Des Moines Association of Fine Arts. And what happened to that gallery? It grew and moved; today, you know it as the Des Moines Art Center.