The library isn't the only unexpected place where art is popping up. Last week, we sure had fun attending the opening of the Residential at Crane Artists Lofts. The Residential represents a new concept for a gallery: Exhibits will be held in people's homes.
The inaugural display features works by well-regarded Ames artist Kathranne Knight. At the lively event last Thursday, about 50 people crowded into Mat Greiner's apartment to view Knight's captivating drawings.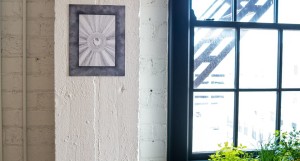 The idea behind the Residential is to offer a way to experience art in an intimate space, pairing fine art with hospitality, says Greiner, a local artist. He admits "it can be a little weird" to go to someone's home to see an exhibit, but the concept can nonetheless help lower barriers to accessing art, as well as allow people to connect with one another, the artist and the work. He expects the Residential will host four or five exhibits a year.
Other than opening receptions and special events, the Residential is open by appointment only; for more details and contact information, go to the Residential's website or Facebook page. The gallery is a project of Chicken Tractor, which Greiner and three other artists founded in 2013 to increase opportunities for local artists (read more about the group in this dsm story). Upcoming events and projects include a microgrant dinner June 8 at the Riverwalk Hub; a group exhibit, "We Must Arise and Act!," June 21 at the Residential during Art Week Des Moines; and a display at the Garage at the Salisbury House in the fall. To learn more, check out Chicken Tractor's website or Facebook page.