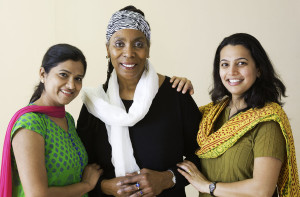 Local theater wiz Ken-Matt Martin is directing a production of the Indian love story "Shakuntala" for Gateway Dance Theatre June 17-19 and 24-26. It's a 19th-century tale of a young woman and a monarch.
No less dramatic are production details behind this show that illustrate the legendary dedication of people in theater. Consider:
As director, Martin has been zipping between work at Chicago's Goodman Theater and Des Moines for weekend rehearsals.
Associate director Sarah Hinzman runs rehearsal during the week, when Martin chimes on via FaceTime.
Their collaborator, Sarmishtha Sarkar, is watching from afar as well, in her case from India, where the drama is set.
"There are upwards of 11 different languages and cultures represented in our production," says Martin, a founder of Pyramid Theater Company, which focuses on staging plays that explore authentic African-American life. "It is likely the most multicultural theatrical outing ever produced in the city. Des Moines needs to see this!"
Des Moines will have that opportunity at Grand View University's Viking Theater, 2411 E. 14th St., June 17-19 and 24-26. Friday and Saturday shows are at 7:30 p.m.; Sunday curtains go up at 2 p.m. Seats are $20, with discounts for students, military, seniors and others. Details here.