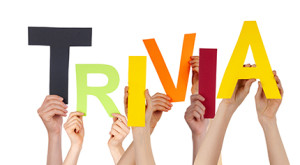 Doesn't it make you crazy when you're watching a TV game show and the dufus contestant doesn't know an answer that is perfectly obvious to you — and then she still wins a new car or some "fabulous showcase" while you're stuck driving your nasty old Datsun B210?
If your brain is a treasury of trivia, here's your chance to let it out — all of it, obscure facts, long-lost lyrics, the beauty of your art-history major. Yes, get the recognition you deserve at last: Sign up for the Des Moines Public Library's Trivia Smackdown. You belong here, you and your friends with your vast stores of offbeat information. You can form a team (of two to six members) to destroy legions of lesser minds. It's a fundraiser for the library foundation, so it'll cost each team $150, but what's that when weighed against the lush laurels of victory?
The Smackdown goes down Saturday, June 18, from 6:15 to 9 p.m. at the Central Library. In addition to glorious bragging rights, you can also snare prizes for best costumes, best team name and other haughty honors. Adoring spectators are welcome, too, for just $20 (which includes a shot at door prizes). A cash bar and appetizers assure you that this is a classy event, worthy of displaying your trivia mastery. For details and entry forms, click here. OK, quick — just to warm up: What's the capital of Idaho?