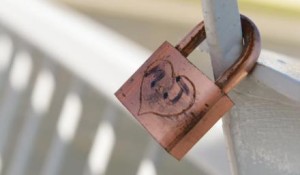 A worldwide trend has locked onto Des Moines and won't let go. Remember the "love locks" that had Paris all atwitter? Visitors to the City of Love have long pledged their undying devotion by affixing padlocks to fencing on a bridge over the Seine. Locks bear appropriately poetic inscriptions, such as "Sophie + Burt" or "E loves C," within or without an encircling heart shape. By the thousands! Paris overcame its romanticism when the density of lockage turned the fences into walls of steel. With some romantic despair and no ceremony, city crews unlocked all that love and pitched it — sentiment and shackles, all cast asunder.
Ah, but love is eternal. Since the stories of Paris, so-called "love locks" have clamped onto unlikely sites in cities all over the world. Commerce is just as eternal: At least one online business offers to make you a professional-grade love lock with your sentiment expressed in some font of favor for a reasonable sum. Of course, it's in the U.S. of A.
And that brings us to Des Moines — the Des Moines River, to be exact, that Seine of Central Iowa, where sweet love locks first latched onto the majestic Women of Achievement Bridge last fall, only to be cut away and trashed by city crews. But like springtime blossoms of love, locks have sprung anew at the mid-river overlook on the pedestrian bridge downstream. We saw two last week, three yesterday. Where will it end? As in the past, locks will be removed, only to pop up someplace new. Because love endures all things.