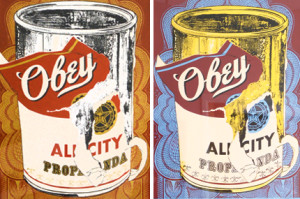 If you're sitting around bored this week, you sure won't get any sympathy from us. That's because you can choose from dozens of programs and events — nearly all of them free — during Art Week Des Moines, June 20-26. Various organizations, venues and businesses will host events that showcase the diversity of our local arts and culture scene. A few highlights on our calendar:
• "Urban Visionaries," an art exhibit at the Des Moines Social Club's Viaduct Gallery, June 22-26. Hosted by Visionary Services Inc., the exhibit will feature works by acclaimed national and international urban street artists, such as Bansky, Shepard Fairey and D*Face. View a video by Visionary's president and the collection's owner, David Safris, here.
• Bumper Crop, presented by makebreak and the East Village boutique Preservation, 321 E. Walnut St., June 23. Prints, photos, sculptures, drawings and paintings by such noted Iowa artists as Judith Eastburn, Stephanie Brunia and Van Holmgren will be available for a flat rate of $33. Proceeds benefit the local Community Supported Art program.
• Art2Art Bike Ride, hosted by Art Noir, June 25. The 19-mile ride focuses on public art in Greater Des Moines. It begins at the Des Moines Art Center and ends at 515 Brewing Co. in Clive. Learn more and register here.
Find a full list of events on the Art Week website and Facebook.
Art Week will culminate with the Des Moines Arts Festival June 24-26, when 175 artists from across the country will converge in Western Gateway Park to show and sell their works. For details on the festival, go to the organization's website.
To learn how artists were chosen for the festival — and to meet some of them — read this story in the current issue of dsm. Scroll down in that article to read more about Art Week Des Moines and David Safris' fascinating urban street art collection.