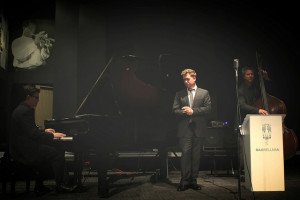 Max Wellman, the face as well as the principal voice of the jazz club Noce, is expanding his range one again, with a focus on Chicago.
Wellman tells dsm that he will remain Noce's entertainment director but will sing in the Des Moines club only about once a month. He's moving his performance energies to Chicago, where he also plans recruit more talent for Noce's stage.
"It's a little bit complicated," he admits. Noce's management team will pick up more of his role as host at the popular club Wellman created with partners Bob and Maria Filippone. Noce opened last New Year's Eve.
"I'm looking forward to spending more time in one of the major jazz scenes," Wellman says. "And Noce will benefit from the connections I make."
An eventual move for Wellman "was part of our planning from the beginning," he adds, noting that he will maintain a studio apartment in Des Moines.
"I have a long-term commitment to Noce and to Des Moines in general," says the singer who grew up here and had loyal fans even as a youth.