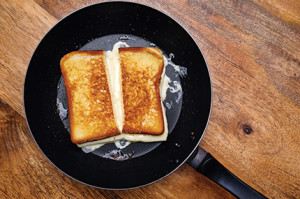 Your long wait is over! The American Cheese Society's Annual Conference and Competition arrives at the Iowa Events Center this week. More than 1,200 cheese and specialty food professionals are expected for the seminars, competitions and cheesy revelry.
The Cheese Shop of Des Moines is hosting a free block party tomorrow — Wednesday, July 27 — from noon to 4 p.m. on Rollins Avenue., just south of the Shops at Roosevelt. They'll have cheese samplings and other treats, including a beer garden. "Come and meet our favorite national cheesemakers, who will be offering samples," says owner C.J. Bienert.
Then on Saturday, July 30, from 7 to 9:30 p.m., the Iowa Events Center's doors swing open for the Festival of Cheese, when the public can sample more than 1,800 artisan and specialty cheeses alongside preserves, chocolate, wine, cider and craft beer. Cheeses will also be available for purchase at cut-rate prices. Tickets cost $60.
Find details on the American Cheese Society website. And for a better understanding of cheese, in its many varieties, read this article from the current issue of dsm magazine.