By Wini Moranville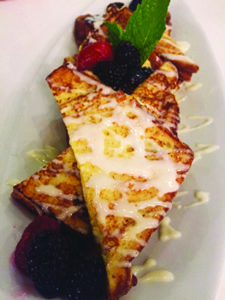 Let's get one thing straight about Vivian's Diner and Drinks: That long bar with high, swivel-chair seating in front of the kitchen is not a chef's table—it's a diner counter. And just because the horizontal slits in the wall let you spot line cooks in action does not make this an exhibition kitchen. What you're looking at, my friends, is pretty much a good old short-order window.
Indeed, the theme here is more American diner than fine dining. But while the black-and-white color scheme nods to the midcentury diner, don't expect that annoyingly peppy "Happy Days" feel. This space, which most recently housed the Gramercy Tap, has been classed up and 21st-century-ized with reclaimed wood, beaded shimmer screens, pearlescent tile and sparkly pendant lamps and chandeliers.
"We're aiming for a clean, crisp feel that's plush versus retro," says owner Jeff Duncan, whose career in the restaurant industry stretches back to the '70s. Most recently, he was director of operations for Dos Rios, Catering DSM and Big City Burgers.
He and his chef, Ryan Carey, (who also hails from the Catering DSM et al. group) are aiming for familiar diner food with modern twists, adding layers of flavor and bright touches. What does this mean? Forget heavy, soggy French toast drenched in syrup. The version Carey had me sample was soft, light and luscious—with a delicate drizzle of cream-cheese icing and sweet macerated berries.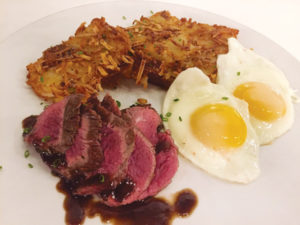 The kitchen revitalizes steak and eggs by plating a shoulder tender (a cut like filet mignon, but with a little less tenderness and much more flavor) with spiced demi-glace, aside two perfectly sunny-side-up eggs and a stellar potato-cake/hash-brown creation. And the cast-iron-seared turkey burger with Brie, arugula, smoked onion jam and sundried aioli? Even in an age of gourmet burgers, this is an upgrade.
With all-day breakfast, a great array of sandwiches, burgers, salads, and flatbreads, plus full-blown entrees after 4 p.m.—and yes, a full bar—well, let's just say I'm in.
Find Vivian's Diner and Drinks in the Kirkwood Building, 400 Walnut St.; 515-282-8936. For more information, Vivian's is on Facebook at facebook.com/viviansdm.
Wini Moranville covers food and dining for dsm. Follow her at All Things Food – DSM Wini Moranville.