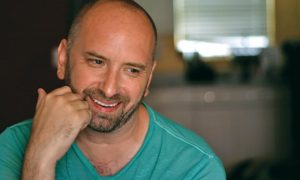 Filmmaker, playwright and Des Moines native Shadley Grei explores the anatomy of his tormented relationship with his father in "Welcome to the Grei Area," a show consisting of two separate plays Saturday and Sunday, Aug. 6 and 7, in the Des Moines Civic Center's Stoner Theater.
Grei's parents divorced about the time he was born, and he and his father remained strangers until 2005, when Grei was 34. They developed a relationship, but in 2012, "a single conversation closed the chapter of my life with my father in it," he says.
Although the experience was heartbreaking, he says the show is "a comical look at the most challenging chapter in my life–and how absurd life can be when it isn't what it's supposed to be. One of my survival techniques is that I have a dark sense of humor."
"Welcome to the Grei Area" will be performed Aug. 6 at 7:30 p.m. and Aug. 7 at 2 p.m. Tickets are $15, available through Ticketmaster. To learn more, visit shadleygrei.com and read this story and view the video (scroll down the page for both) in the current issue of dsm magazine.