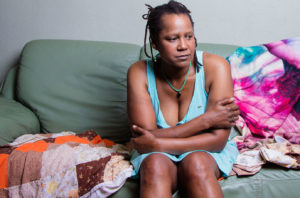 We're looking forward to what promises to be an intriguing — and exceedingly provocative — exhibit opening this Friday, Aug. 26, at Moberg Gallery. Featuring the works of nine local and national female artists, "UpSpeak" focuses on the complex experience of being a woman today.
The exhibit will undoubtedly jolt you out of your comfort zone, as the artists' photographs, sculpture, drawings, mixed-media pieces, video and works in other mediums address difficult issues that affect women, such as domestic violence and sexual abuse. Des Moines artist Larassa Kabel, who has become well-known for her fascinating and often disturbing drawings and paintings exploring sex and death, is curating the exhibit. She'll also show new work; her "Security Blanket Project" uses "our most basic form of shelter to uncover the strangely visible reality of sexual violence against women," she says.
Artist Dasha Medvedeva's graphic-novel-inspired drawings explore the horror genre from a feminine perspective, while Heidi Wiren Bartlett's sculpture, video and live performance address race and gender issues in the United States. Additional featured artists include Heidi Bragg, Samantha Barbour, Jennifer Buchkowski, Jessica Pleyel, Virginia Traxler and Taylor Yocom.
The opening reception Friday is from 5 to 8 p.m.; the exhibit runs through Oct. 9. For more information, go to Moberg's website.