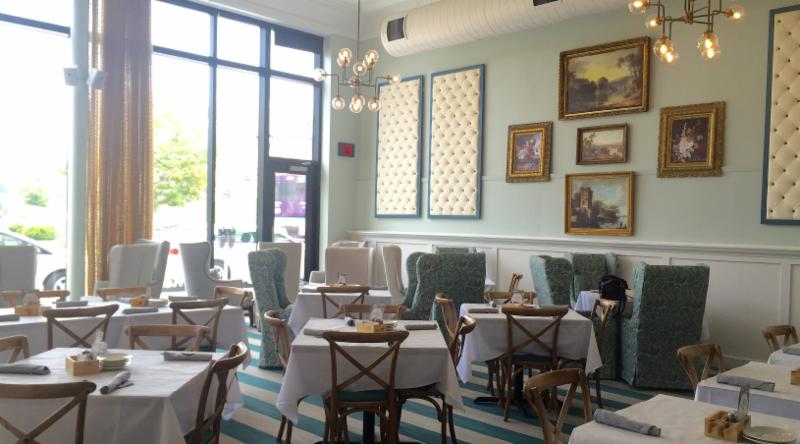 By Wini Moranville
In over 750 dining reviews I've written over the years, I can't recall ever using the word "breathtaking" to describe a restaurant. Yet that's exactly the word that came to mind as I surveyed the surroundings at Magnolia Wine Kitchen from my tapestry wingback chair.
Magnolia opened last month in the space where Lurra Cocina came and quickly went. Gone is Lurra's edgy, industrial-modern feel; in its place is a graceful cream-and-aqua color scheme, shimmery gold curtains, classic still-life and landscape paintings, and some beautifully upholstered banquettes and chairs.
Somehow, the decor pulls all this off without feeling stuffy or rococo; rather, the space feels clean, modern and bright, with two-story floor-to-ceiling windows adding to these effects. I can't think of a better spot to drink a glass of wine than in the conversation clusters of soft seating looking out at the streetscape and the Pappajohn Sculpture Park beyond.
And hats off to fair wine prices: Find thoughtfully chosen values (e.g. La Marca Prosecco for $7 a glass) or splurge on a bottle of well-purveyed Napa Valley red–with plenty of styles and price points in between.
The food is definitely more bar-grill than bistro, but that's OK: It's nice not to have to splurge every time you want to dine somewhere dashing. The winner at lunch was the Cajun tuna sandwich, with good-quality medium-cooked tuna, tomatoes and Cajun crema on expertly grilled bread. The Salmon BLT was good (after all, it had bacon and a garlic aioli), though the salmon itself brought little flavor.
I'll be back soon, as there were plenty more draws on the menu. I'm eyeing the lobster roll and Cajun shrimp tacos, in particular.
Magnolia Wine Kitchen is at 1420 Locust St.; 515-635-0952; magnoliawinekitchen.com.
Wini Moranville covers food and dining for dsm. Follow her at All Things Food – DSM Wini Moranville.