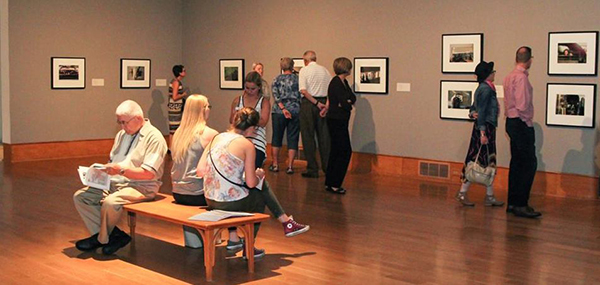 "We had no idea it was there," the lucky schmo inevitably tells a reporter, prompting the rest of us to make a mental note to finally dig through all those boxes we stacked in the basement after Grandma Myrtle's funeral.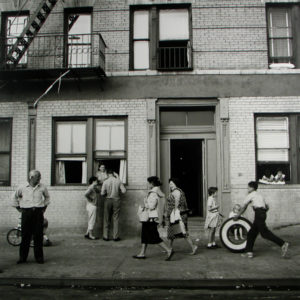 The new show at the Des Moines Art Center resulted from just such an accidental discovery—only doubled, because both the artwork and the artist herself had been completely unknown.
The photos on display here through Jan. 22 were captured by the remarkably sharp eye of a suburban Chicago nanny named Vivian Maier, whose stockpile of more than 200,000 negatives ended up in a storage facility auction shortly before her death, in 2009. She'd taken the photos between the late 1940s and early 1980s and had kept them completely private her entire life. Nobody knows whether she ever wanted them to be printed or displayed, even—and especially—after her death.
Maier's photos of ordinary people frozen in cleverly formal compositions were first published online, in 2008, and went viral the following year, prompting a 2011 exhibition at the Chicago Cultural Center and subsequent shows in Europe, Asia and South America. The Art Center show was organized by the museum's senior curator, Alison Ferris, who joined the museum six months ago.
There are 70 prints on display—20 in color, 50 in black and white—and they march in uniform black frames around gray-painted walls, chronicling quiet moments on noisy big-city streets. Men doze in cars. Couples hold hands. On the bus, a woman rests her head on a man's shoulder. There is enough raw material here to inspire several semesters at the Iowa Writers' Workshop.
Most of the photos were obviously shot on the sly, and you wonder if the camera's telltale click ever caused any friction: "Hey, lady, mind your own business." But from what we can discern from a handful of self-portraits reflected in shop windows and mirrors, Maier looked harmless. In the print that greets you at the entrance, she wears a rumpled cotton dress, no apparent makeup, and a short hairdo tucked under a sensible hat. Her gaze is steady.
In the gallery you can see the passage of time from the buttoned-up, Brylcreemed 1940s through the looser, hairier late '60s and '70s. In one of the funnier shots, a woman wears a lemon yellow skirt that nearly matches the short shorts and knee-high socks of two middle-aged men, apparent strangers, standing on the curb nearby. They might not have noticed the coincidence, but Maier sure did.
After a lap in the gallery, you'll start to spot things, too—another visitor's scuffed shoes, a frayed hem, maybe even your own shadow on the wall. You'll start to wonder where Maier would point her camera if she were here.
And maybe that's the takeaway. It would be great to find a masterpiece hidden in the basement, but there's art everywhere. You just have to open your eyes.
---
"Vivian Maier: Through a Critical Lens" runs through Jan. 22 at the Des Moines Art Center in conjunction with "Whose Streets?" an exhibition of two dozen street-themed works from the permanent collection. Related programs include screenings of the documentary "Finding Vivian Maier" with insights from researcher Ann Marks at 6:30 p.m. Thursday, plus Oct. 23, Nov. 13 and Jan. 8; a gallery talk with curator Alison Ferris on Oct. 6; and a lecture on "The Camera and the Street" with art historian John Tagg on Oct. 20. All events are free, but some reservations are required. desmoinesartcenter.org