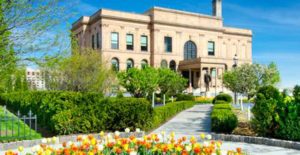 When was the last time you waited 150 years for a party? Such patience will be rewarded at Book Ball 150, a celebration of the Des Moines Public Library's 150th anniversary. For those rushing to Dewey Decimal section 423 for dictionaries, the word for a 150th event is sesquicentennial.
What better place to celebrate such a fine word and worthy institution than the World Food Prize Hall of Laureates, a building that was long the home of Des Moines' main library? The sesquicentennial event, a benefit for the library foundation, is Friday, Sept. 30, from 6:30 to 11 p.m.
Special moments in the evening include a poetry reading by Jim Autry, a recognition of former library director Elaine Estes and a presentation of the 2016 Iowa Author Award to Patricia O'Conner.
For tickets (starting at $200) and more information, click here. Read more about the library's evolution and its "virtual library," plus what some of our community leaders are reading, in this story in the current issue of dsm.