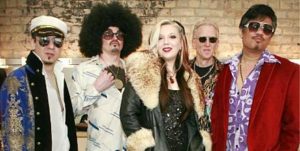 In olden days of yore (the 1980s and '90s), revelers flocked downtown on Fridays for Seniom Sed, starting the weekend off with a beer and some tunes. Those were summertime glory days for Nollen Plaza. The plaza has been recreated as Cowles Commons, so why not recreate the weekly bash?
That's the question raised by Des Moines Performing Arts, which manages the Commons. Their answer? Commons Off the Clock, starting Thursday, Oct. 6. (By the way, unlike Seniom Sed, Commons Off the Clock spells nothing backwards.)
This happy hour event starts at 5 p.m. with music by Boogie Wonderland, the Iowa Craft Beer Tent and local food trucks. For this year, Commons Off the Clock is a one-time event, but organizers hope to make it a regular part of downtown Des Moines when warmer weather returns in 2017. Admission is free.