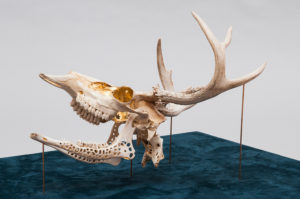 If you haven't been to Gallery Night in Valley Junction for a while, this Friday's (Oct. 14) event promises to be a good one. We're especially looking forward to the opening of a new show at Olson-Larsen Galleries that features the work of two intriguing artists: Brent Holland and Lee Emma Running.
Holland, an associate professor at Iowa State University who became known for his compelling self-portraits, has in recent years turned his attention to multidimensional paintings and drawings combining digital and traditional media. Holland's artwork also will be showcased as part of the "Art on DART" project. The art-wrapped bus, parked on Maple Street between Fourth and Fifth streets in Valley Junction, will be unveiled at 5:30 p.m. and remain on display until 9 p.m.
Running, an assistant professor of art at Grinnell College, will exhibit work from a recent project that "combines the skeletons of road kill and gold leaf in a startling and beautiful way," says Susan Watts, owner of Olson-Larsen. She adds that Running "consistency challenges herself and her audiences with her work."
No doubt about that. Here's how Running explains how she creates the pieces: "Year round, the highways are littered with roadkill. In the early spring I walk creek beds and ditches to retrieve their bones. … I polish the bones to a porcelain shine and then engrave an image of a lacy network onto their surface. With a jeweler's tool, I carve the bones and remove the marrow from their core. Once hollow and clean, I gild the internal chamber with 24-karat gold."
Running also is creating a temporary installation at an empty building near Olson-Larsen as part of Gallery Night.
The opening reception is 5-9 p.m. Valley Junction's other galleries and shops also will be open for Gallery Night.