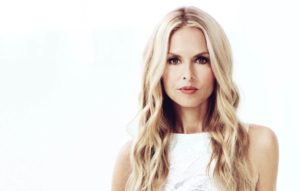 In what's arguably the biggest fashion news to hit Des Moines this year, internationally known design star Rachel Zoe, who has worked with Hollywood A-listers such as Jennifer Lawrence, Keira Knightley and Kate Hudson, will stop in town to style some of our city's most fashionable women.
K. Renee will host Zoe Oct. 27 for a special styling event. Zoe and her team will work with around 50 clients on a private-appointment basis. Appointment space is limited; if you're interested, stop in the store this week and talk to a member of the staff, suggests K. Renee partner Julie Ross.
If you don't have a private appointment, though, no need to worry: K. Renee is holding a trunk show Oct. 27-29 (during regular store hours) featuring Zoe's new collection of fall, resort and evening wear as well as jewelry. The trunk show will include stock–not just samples of items that you then have to order–so "you can try it, buy it and take it," Ross says.
"I am loving the Rachel Zoe collection because it incorporates a sense of glamour and occasion into even her daytime separates," Ross says. "For example, she creates a snow-white cable knit sweater and scatters pearls on it–a simple and striking touch."
Most people seem to "wear clothes that make them blend in and disappear," Ross adds, but Zoe's clothing "makes us stand out in the best of ways."
Zoe is visiting Des Moines largely because of the relationship she has with K.Renee owner Kelli Schulz. "It's a nod to the deep relationships Kelli has in the industry," notes Ross, adding that K.Renee is one of only two or three independently owned specialty boutiques that Zoe will visit this year. "Kelli has been behind the Rachel Zoe line from the beginning."
K. Renee is located at 2600 University Ave. in West Des Moines; find out more on the store's website.