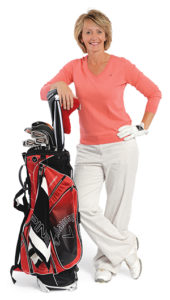 Photographer: Duane Tinkey
Under the rules of the game, golfers may carry no more than 14 clubs. But there's no limit on other gear, from first aid to lucky charms. Low-handicapper Jana Rieker, the public relations and communications director at Trilix, reveals some of what she carries.
1. Candied Silence: I always have butterscotch or peppermint candies. I like the taste, but there's another reason: I talk a lot and they remind me to keep my mouth shut some of the time.
2. Big Pharma: I'm a former Girl Scout, so I'm always ready for whatever comes our way. And, you know what? I get asked for one of these items pretty much every time I golf.
3. Gummed Up: Juicy Fruit Starburst is my kids' favorite gum, and I've been playing with them a lot (Meredith, 12, and Grant, 14).
4. Puttering Around: My father and I won this putter in a father-daughter golf outing when I was 14. It stays with me.
5. Sentimental Journey: The little cross was a gift from my twin sister. The red-white-and-blue pin is from the 1996 Olympics we saw in Atlanta. The bow represents my high school colors.6. Hand Ironing: My irons are 25-year-old TaylorMades. They work for me.
7. A Matter of Principle: I've had the good fortune to play in the Principal Charity Classic in recent years, so I keep these on my bag.
8. Fore! I use this 7-wood a lot, and a 5-wood, rather than long irons.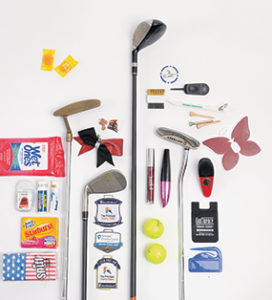 9. Jackpot: I use this poker chip as a ball marker. Many people do that now. It's kind of a thing.
10. Two-Faced: This tool repairs ball marks. The brush has two faces, wire bristles for clubs and a softer side for getting mud off the ball or my shoes.
11. The Odyssey: Golfers have a love-hate relationship with their putters. I'm comfortable with this one.
12. Eyes Up Here: Lipstick and mascara, that's a golfing makeup kit. Golf usually involves conversation, and when you're talking, people look at your eyes or your mouth.
13. Madame Butterfly: This butterfly tag with a pineapple body is the logo for Kapalua Resort in Hawaii, the home of my favorite golf course.
14. Swag: Tournaments often give players promotional items from their sponsors, so I always have a few in my bag, from bag clips to letter openers.
15. Snow Balls: The yellow balls are useful in snow, and my daughter thinks they're cute.