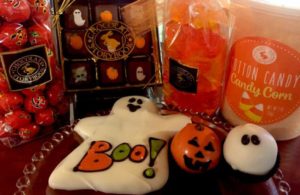 Never mind ghouls and goblins–the scariest thing about Halloween is the ripped-open half-full bags of supermarket candy miniatures that haunt your house until, somehow, they bewitch you into eating them.
This Halloween, tap into the spirit of the holiday, but scare up something worth the indulgence: Head to Chocolate Storybook for top-notch Halloween candies. The cutest are the kettle-cooked caramels, which are hand-dipped and decorated with pumpkins and goblins. Also find handmade chocolate truffles in the form of sweet little ghosts and jack-o'-lanterns.
Fast becoming a signature confection is the shop's line of specialty cotton candy. According to owner Meg Shearer, her crew makes over 4,000 tubs a week in their West Des Moines location; they're sold at 300 retailers nationwide. While you can choose from dozens of varieties, the candy-corn and caramel-apple flavors will especially hit the spot for Halloween.
Even goodies that aren't made in-house are painstakingly sourced. For example, the orange gummy candies, Shearer says, are "the best ever;" novelties such as the foil-wrapped jack-o'-lantern chocolates are made specifically for the shop.
Chocolate Storybook is at 1000 Grand Ave., West Des Moines, 515-226-9893; chocolatestory.com.
—Wini Moranville