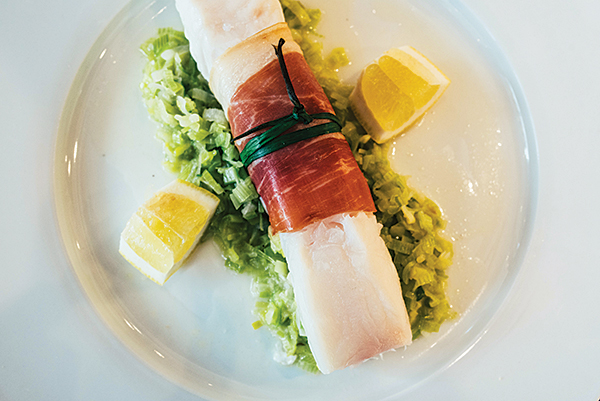 Writer: Wini Moranville
Photographer: Liz Brown for Goldfinch
On a recent preview visit to Goldfinch, the new Court Avenue restaurant that's replaced Dos Rios and is expected to open Nov. 10, it didn't take long for me to realize just how much the farm-to-table spirit infuses the restaurant through and through. The utterly modern birchwood-white and natural wood interior, with splashes of bright colors here and there, recalls the fresh, breezy feel of a whitewashed farmstead, surrounded by all things alive on a clear blue-skied day.
The field and garden inform everything that comes to the table, starting with the cocktails. The drinks menu—designed by certified mixologist Jeff Naples, a cocktail consultant known as The Beard Behind the Bar—purposely showcases gin, a decidedly botanical spirit. Gin's floral pleasures came through delightfully in the Fraise Sauvage, a concoction of gin, champagne, fresh strawberries and lemon syrup. Even non-gin drinks star the garden in some way, with the likes of lavender, herbes de Provence, beets and rosemary making their way into various libations.
The menu is equally garden-driven, and while some of our best local restaurants also observe the farm-to-table ethos, Goldfinch may have an edge: They've brought the farmer into the kitchen.
That farmer is Khanh Hamilton, whose extensive gardens at Sunstead Farms in Waukee have provided local chefs with cream-of-the-crop produce for years. She's also a sought-after, under-the-radar caterer who's known among local food cognoscenti as an outstanding home cook. And now, she's the culinary director of Goldfinch, working alongside executive chef Justin Comer.
"Our menu is very vegetable-driven," says Comer, adding that the first steps he and Hamilton took in developing recipes was to walk through Sunstead's gardens with a knife, cutting off the fresh produce and talking about how to bring it to the plate.
Make no mistake—this is not a vegetarian restaurant by any means. Rather, the New American menu features braised short ribs, chicken, grilled ribeye, pan-seared salmon and other favorite proteins, each prominently sided with a fresh, thoughtful veggie or two, such as watercress, fennel and orange salad, corn cakes, red cabbage, jicama or sautéed leeks.
I especially appreciate the uncomplicated way in which Hamilton and Comer brought their vision to the table. The baked halibut, for instance, featured a marvelous piece of fish wrapped in a rosy-pink band of La Quercia prosciutto and served atop a bed of leeks. Just leeks, sautéed in olive oil, finished with a little butter, salt and pepper. No herb sprigs shooting out the top, no added drizzles of sauce muddling up the plate.
I was also impressed by the prices: With such thoughtful entrées going for a reasonable $16 to $29, an array of sandwiches at $14 and under and wine starting at $7 a glass, I'm predicting Goldfinch will really fly.
Goldfinch is at 316 Court Ave., 515-282-2995; goldfinchdsm.com.