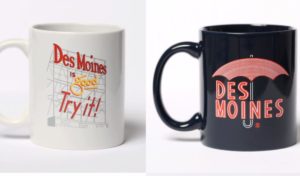 Like shopping local? It doesn't get more local than this, dealing with product makers, service providers and shop owners at two Thanksgiving weekend events:
Black Friday Market Day, Nov. 25, from 9 a.m. to 5 p.m. in Capital Square.
Small Business Saturday, Nov. 26, marked by a series of special events from 10 a.m. to 5 p.m. in the Shops at Roosevelt complex on 42nd Street.
The Black Friday event involves more than 60 artists, artisans, crafters and other creators of handmade gifts — everything from clothes to art to toys in the Capital Square atrium.
The next day, the Shops at Roosevelt will be adding festivities to holiday bargains. For families, Five Monkeys will offer crafts, the Des Moines Community Playhouse will have story times, and Santa and Willy Wonka will be available for photos. Participating stores will also offer complimentary cider, cocoa, cookies and more.
Get personalized shopping ideas from store owners, including cheese and wine pairing suggestions from experts at The Cheese Shop. Strolling musicians add to the holiday spirit. And on the subject of spirits, we're intrigued by the "Husband Day Care" offered by Vom Fass, where guests can sample whiskies while their spouses shop throughout the area.
Also, join dsm magazine's food writer, Wini Moranville, at Vom Fass from noon to 2 p.m. as she demonstrates (and offers samples of) true-to-France crêpes featuring dessert sauces starring Vom Fass liqueurs.