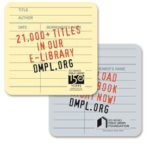 The Des Moines Public Library is tapping a new brew of readers–young adults at local taverns, an age group most likely to be interested in the library's 21,000 books, magazines and audiobooks available digitally. And they're promoting the service with beverage coasters under drinks at University Library Cafe, Iowa Tap Room, El Bait Shop, Fong's Pizza, Highlife Lounge and the Royal Mile.
The system is simple: Go to dmpl.org and click the "E-books and More" button and follow the instructions. Once you have access to the e-library catalog, you have an instant solution for snow days, long winter nights and boring holiday travel time–or any time, really.
Also for young adults, the Des Moines Public Library Foundation is forming a group of library enthusiasts in their 20s and 30s called "The Next Chapter." The foundation consists of members of the community who support the library through fundraising and advocacy. The Next Chapter is a way to get involved early, with engaging activities and a valuable group of peers.
The Next Chapter will hold its first event on Jan. 26 from 6:30 to 8:30 p.m. at Madhouse Brewery, 501 Scott Ave. Take a tour, enjoy Iowa craft beer, and learn about the art and science of brewing. For more information, contact Dory Briles, the foundation's executive director, at 515-248-6402 or dbriles@dmpl.org.