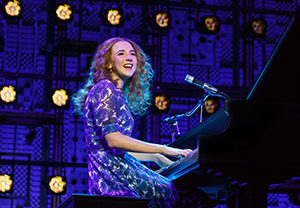 Reviewer: Michael Morain
It's possible that Carole King could have written all those songs with just a good imagination. But it's more likely they were inspired, at least a bit, by the ups and downs of her own life.
That's the idea behind "Beautiful: The Carole King Musical," which opened a weeklong run Tuesday night at the Des Moines Civic Center and lives up to its name. From "One Fine Day" to "The Loco-Motion" (who knew?) to "You've Got a Friend"—all the hits unspool so naturally from King's own boomer-era biography that they feel universal, as if she wrote them about you or me or someone else instead. It's the musical equivalent of cotton, the fabric of our lives.
But as with any jukebox musical—and there are plenty, from "Jersey Boys" to "Mamma Mia!"—the trick is to weave together the warp of the story with the weft of the songs into a tightly intertwined show. "Beautiful" gets it mostly right: The touch and feel is 1,000-thread-count smooth even if the weight is a little thin.
Director Marc Bruni takes the slight book (Douglas McGrath) and sets up just enough context to stitch together each song by King (the adorable Julia Knitel) and her first husband, Gerry Goffin (Liam Tobin), or their friendly rivals, Barry Mann (John Michael Dias) and Cynthia Weil (Erika Olson), who crank out hits of their own in the studio office next door. So most of the tunes emerge first from a solo piano before swelling into glammed-up versions sung by the Drifters ("Some Kind of Wonderful"), the Shirelles ("Will You Love Me Tomorrow?") and the Righteous Brothers (with an especially woeful rendition of "You've Lost That Lovin' Feeling"). The '60s-era groups wear lots of sequined dresses and sharkskin suits (by Alejo Vietti), with the slick and snappy moves to match (choreographed by Josh Prince).
The hit parade marches too fast for the plot to keep up at the end of the first act, but it's fun to hear all those familiar pop tunes sung by Broadway voices, backed by a terrific 13-piece band (conducted by Susan Draus, with nine top-notch locals).
The songs sound especially good when they're delivered by Knitel, whose lanky frame, plain-Jane wardrobe and endearing Brooklyn accent belie a gorgeous set of pipes. Her character is so down-to-earth humble that she catches you off guard whenever she starts to sing, from her first trip as a plucky 16-year-old to the studio of Don Kirshner (played with fast-talking ease by Eldridge, Iowa, native Curt Bouril) all the way up to her 1971 concert at Carnegie Hall—her first public concert—where she feels like a (natural) woman who's survived love, marriage, heartbreak and divorce.
The show casts a flattering light on the guy who caused most of that turmoil, Goffin, whose affairs and drug abuse don't seem as dark as they probably did in real life. But Tobin plays the role honestly, sings handsomely and looks dashing even in bell-bottoms.
Still, the spotlight shines most brightly on the person who deserves it, King herself, whose life isn't as unusual as her talent for translating it into music—first through other voices and then, finally, her own.
"Beautiful: The Carole King Musical" runs through Sunday at the Des Moines Civic Center. Find out more at desmoinesperformingarts.org.