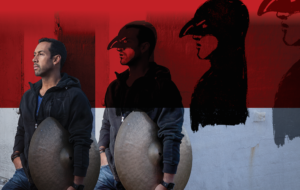 When we caught up with Robert Warren over coffee, the Hoyt Sherman Place executive director was brimming with news that's sure to keep the venue firmly in the limelight this year. We were especially excited to hear that Hoyt Sherman is teaming up with well-regarded chef Katie Porter of the Wallace House to offer farm-to-table dinners before select shows.
Porter will create locally sourced specialties for up to 40 guests, who will be served in the art gallery two hours before showtime. The first two dinners are set for Feb. 25, before pianist Jim Brickman's concert, and March 2, when "Birdman Live With Antonio Sanchez" will be presented. Watch this space and our Facebook page for additional details.
The dinners are just a start of what Hoyt Sherman is cooking up for 2017. Warren told us what else is in the works:
The organization expects to launch a capital campaign by early summer for a proposed $2 million renovation and expansion of the backstage area.
Hoyt Sherman will offer valet parking before shows, starting this Friday before a concert by country singer Josh Turner.
The roster of performances and events will continue to increase throughout the year; you can expect several new announcements every week. Just in the past week alone, the following shows were announced: magician Bill Blagg on March 3; singer-songwriter Jamey Johnson on March 5; classic rock band Kansas on March 31; country singer Vince Gill on April 8; plus a second show of Kristin Hensley and Jen Smedley, the women behind #IMomSoHard, on Feb. 6 (the Feb. 7 show sold out immediately).
Warren told us that some 1,000 tickets for both the Johnson and Kansas shows were sold within a day of going on sale last Friday — not bad for a 1,250-seat theater. But also not surprising: Sellouts have been the norm at Hoyt Sherman since Warren joined the organization some 15 months ago. Overall, more than 73,800 people attended a Hoyt Sherman concert or event last year, a 20 percent increase over 2015. Average capacity was 90 percent.
To keep up with Hoyt Sherman's lineup and to learn more about upcoming events, go to Hoyt Sherman's website. Read more about Warren and the revitalization of the venue in this dsm story.