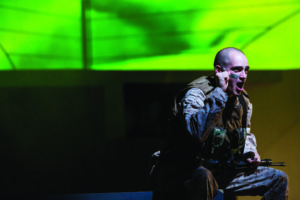 When Des Moines Metro Opera's Michael Egel stopped by our office last summer, he was already talking up "Soldier Songs," to be performed Jan. 27-29 at Camp Dodge in Johnston.
His excitement was understandable; since becoming general and artistic director in 2010, Egel has expanded DMMO's repertoire to include cutting-edge contemporary productions, or, as he puts it, the "stories of our time." Some of these shows are part of the company's innovative Second Stages Series. At dsm, we always look forward to hearing what Egel has in the works — in this case, "Soldier Songs."
Baritone Michael Mayes stars in the multimedia production, which combines elements of opera, theater, rock-infused music and videography. Written by American composer David T. Little, the opera "asks us to examine the real human costs of warfare and the part we all play … in creating the culture of war and the emotionally devastating cult of the real American hero," explains director Kristine McIntyre. Interviews with veterans of five wars, including members of Little's family, shaped the libretto and the 11 staged songs.
The production begins with the audience and the performer listening to those actual veterans' voices. Then, according to McIntyre, "we see the soldier at three different stages in his life: as a boy playing with plastic soldiers and guns, heavily influenced by media images of heroes and war; as a young adult soldier both thrilled and terrified by the grim reality of modern combat; and finally as the older veteran returned home, struggling to confront his memories and consumed by grief when two Marines come to tell him that his son has been killed in battle."
"Soldier Songs" will be staged in the Freedom Center at Camp Dodge; photo IDs are required to enter the camp. Showtimes are 7:30 p.m. Jan. 27 and 28, and 2 p.m. Jan. 29. Tickets are $40, available online here or by calling 515-961-6221.