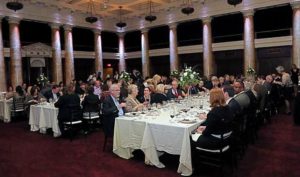 Of all the Winefest events held each year, Iron Somm may be my favorite. At this lavish gathering, Feb. 18 this year in the ballroom of the Temple for Performing Arts, attendees enjoy a five-course dinner, and two competing sommeliers choose a wine to pair with each course. Then, it's up to the diners to decide which wines best complement the food.
Ben Nelson, formerly of Splash Seafood Bar & Grill, took home the prize in 2015. Last year, the title went to Josh Buchsbaum, formerly of Proof and now-closed Lurra Cocina.
This year, the competing sommeliers are Kelsey Seay from Gateway Market and Angel Arevalo from Django.
"Angel is a fantastic server at Django and is quickly earning himself a great name as a sommelier in Des Moines," says Natasha Sayles, Winefest's executive director. "He is one of the recipients of our Winefest Sommelier Scholarship, and since October has obtained both his introductory and level-one certification through the Court of Master Sommeliers."
Anyone who has bought a thoughtfully purveyed bottle of wine at Gateway Market in the past year has already gotten a taste of Kelsey Seay's expertise. "Kelsey has played an important role in Winefest," Sayles says, "and since taking over as the manager of Gateway in 2016, she has continued to showcase an impressive array of wines."
Chefs for the event include Justin Comer of Goldfinch, Dominic Iannarelli of Splash Seafood Bar & Grill, Derek Eidson of Centro, and Christina Moffatt and Holly Evans of Crème Cupcake and Dessert Lounge.
The event begins at 6:30 p.m. Tickets cost $175 per person and can be purchased by emailing or calling Sayles (natasha@winefestdesmoines.com; 515-244-0039). — Wini Moranville
Wini Moranville covers food and dining for dsm. Follow her at All Things Food – DSM Wini Moranville.