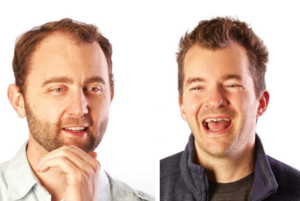 You still have through Sunday, Feb. 19, to catch "No Coast," a play written by the ingeniously clever Mike Draper, owner of the retail emporium Raygun. But don't dally in buying tickets; last weekend's performances sold out.
Starring "Iowa Nice Guy" Scott Siepker, the show takes place in a Des Moines clothing store, called No Coast, right after the State Fair and several months before the Iowa caucuses. Against that backdrop and with the shop gaining national attention, the owner believes the store is on the verge of a major expansion and has an investor to boot. But in just a few hours, everything changes.
Though Draper owns a Des Moines store that has gained increasing national attention, he says the play is not about Raygun. Instead, it re-imagines a store like Raygun, perhaps in a parallel universe. Specifically, it's a "humorous look at T-shirts, beards, bank fraud and Midwestern culture. It could very well be the greatest play ever written about T-shirts, beards, bank fraud and Midwestern culture."
When Draper checked in with dsm in January, he said he'd been working on the play for about 10 months "just for fun, really." But the result, the show's website promises, is "the greatest piece of artwork ever created by human kind." Hyperbole? No! We believe it! We believe everything Draper tells us! You should too!
The show, directed by Kristin Larson and produced by Goldfinch Theater Company, will be performed at 7:30 p.m. Feb. 16-18, and at 2 p.m. Feb. 19 at Grand View University's Viking Theater, 2811 E. 14th St. Tickets are $15, available through Tikly.