dsm food writer Wini Moranville recently ventured into RoCA's kitchen, where executive chef Aaron Holt showed her how to make one of the restaurant's top five best-sellers: walleye fish tacos.
Writer: Wini Moranville
Photographer: Duane Tinkey
Sure, you can find fish tacos at plenty of places in town, but it's easy to tire of tilapia or catfish. Enter the fish tacos at RoCA: They're made with firm, sweet, succulent walleye. Cornmeal-battered and fried for an immensely satisfying crunch, and finished with a tropical fruit salsa, buttery avocado slices and a spicy Sriracha aioli, they spoil you; once you've had them, it's hard to go back to more commonplace versions.
In this way, they exemplify RoCA's niche: Executive chef Aaron Holt and his team take the kinds of satisfying bar-grill foods that diners appreciate on a casual night out, but add a refined touch or two—putting the polish into polished-casual dining. Your hunt for an affordable-but-inspired Tuesday night meal ends here.
An even better time is to be had when you land at RoCA with a group of friends. Shared plates are the draw, and most of the flatbreads, sliders, cheese and charcuterie boards, and creative appetizers—from smothered tots to crab croquettes and beef carpaccio—are festive, fun and eminently sharable. The effect, especially when you choose from one of the 25 wines by the glass or one of the expert craft cocktails, is like a mini party you wish could last all night.
---

Walleye Fish Tacos
Recipe courtesy of Aaron Holt at RoCA
In keeping with the shared plates theme of much of the food at RoCA, this recipe calls for 4-inch tortillas to make 12 small tacos—a perfect size for hearty party nibbles. If you'd like to make main-dish-sized tacos, use 7- to 8-inch flour tortillas. You can also use corn tortillas, if you prefer.
Fish:
1-1/2 pounds walleye filet, skinned and cut into 3-by-1/2-inch strips
Flour breading:
1 cup flour
1/2 teaspoon cayenne pepper
1/2 teaspoon paprika
1/2 teaspoon ancho chili powder
Egg wash:
3 eggs
2 tablespoons water
Cornmeal breading:
1 cup yellow cornmeal
1/2 teaspoon cayenne pepper
1/2 teaspoon paprika
1/2 teaspoon ancho chili powder
For frying:
Vegetable oil
Salt and freshly ground black pepper to taste
For serving:
12 4-inch flour tortillas, warmed.
Garnishes, including sliced avocado, sliced green onion, snipped fresh cilantro and chopped tomatoes.
Pineapple salsa (see recipe).
Sriracha aioli (see recipe).
In a bowl, stir together all ingredients for the flour breading. In a second bowl, beat the eggs with the 2 tablespoons water. In a third bowl, stir together all the ingredients for the cornmeal breading.
Working in batches of about 4 or 5 walleye strips, dredge the strips in flour breading, shaking off excess. Coat the strips in the egg wash; drain off excess. Dredge the strips in the cornmeal breading, shaking off excess. Place in a single layer on a large platter.
Preheat oven to 200 F. In a large skillet heat about 1 inch oil to 375 F. Fry fish, four pieces at a time, in hot oil for 3 to 4 minutes or until crisp, golden brown and firm, turning once halfway through frying time. Transfer fried fish
to a shallow baking pan and keep warm in the 200 F oven while frying remaining fish. Season fish to taste with salt and pepper.
To serve, divide fried walleye strips among the tortillas. Top with garnishes, pineapple salsa, and Sriracha aioli. Makes 12 4-inch tacos.
Pineapple salsa: Combine 1/4 cup diced pineapple, 1/4 cup diced mango, 2 tablespoons minced red onion,
2 tablespoons minced poblano pepper, 2 tablespoons minced red bell pepper, and 1 tablespoon minced cilantro. Refrigerate until ready to serve.
Sriracha aioli: Combine 1/2 cup mayonnaise and 1/2 cup Sriracha sauce. Refrigerate until ready to serve.
---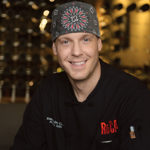 RoCA executive chef Aaron Holt shared these tips for making walleye tacos:
Avoid excess batter: After dredging the fish strips in flour, be sure to shake off any extra flour that doesn't adhere to the fish. Then, after coating the strips in the egg wash, let any extra egg wash drip off. (Holt suggests letting the egg-wash-coated strips sit for a few seconds on a flat surface—just long enough for any extra to drain off.) Finally, coat the strips with the cornmeal breading, shaking off excess cornmeal.
Don't crowd the pan. "Frying too many strips at once will cause the oil temperature to drop," says Holt. "This steams, rather than fries, the breading. And that can diminish that pleasing 'crunch component.' "
When done, the breading should be golden brown with a crunchy crust, and the fish inside should be firm, not soft as it was before cooking.
Season the fish with salt and pepper after frying it. Salting the fish beforehand can cause the fish's natural liquids to leach out, which can make the breading mushy.