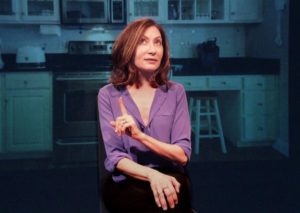 At the Temple Theater through March 12, comedic writer, actress and TV host Annabelle Gurwitch performs her one-woman, one-act show, "I See You Made an Effort: Compliments, Indignities, and Survival Stories from the Edge of 50," based on her New York Times best-selling book of the same name.
Gurwitch is perhaps best known for her years as the co-host of "Dinner and a Movie" on TBS, and numerous years as a commentator on NPR. The show is set on the eve of a 50th birthday, and Annabelle is hounded by AARP, flummoxed by internet passwords, and wondering whether a declining 401(k) will force her to spend her Eileen Fisher years in an elder hostel in Uzbekistan.
Tickets start at $26, available here.