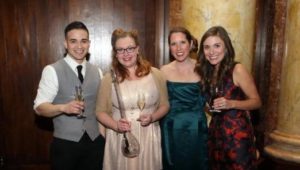 A splendid time was had at the third annual Iron Somm event in February, when Kelsey Seay of Gateway Market became the first female champion in the series. Seay bested Angel Arevalo of Django to take the title in the grand ballroom of the Temple for Performing Arts.
The evening's fine-tuned four-course dinner included a showstopper that left everyone agog: the salmon and scallop "Osso Bucco" — a giant scallop rimmed by luscious salmon, accompanied by pureed parsnips and roasted mushrooms — created by Splash Seafood Bar and Grill's executive chef Dominic Ianarelli. While tradition-bent wine lovers might have reached for a white wine for this dish, both sommeliers chose reds: Seay poured the Mas de Bressades cabernet/syrah blend from the Costières de Nîmes appellation, while Arevalo poured a Chateau Haut-Brisson St. Emilion Grand Cru. Diners agreed that the infinitely food-friendly French reds were just the ticket for Ianarelli's dish, which will not soon be forgotten.
Mark your calendars for Winefest 2017, June 3-10. Learn more at Winefest's website.