Above: Enticing desserts are just part of the fun that distinguishes Sip Savor Switch.
Writer: Missy Keenan
Photographer: Christopher Maharry
Sip Savor Switch
An exclusive, intimate affair that supports Des Moines Community Playhouse, Sip Savor Switch is a progressive food and wine tasting that takes attendees to four homes, each featuring a menu created by a local chef.
Neighborhoods have included South of Grand, Southern Hills and downtown. Participating chefs have come from such popular spots as Proof, Centro, Splash Seafood Bar & Grill, and RoCA, as well as from caterers Catering by Cyd and Metro Specialty Products.
Restaurateur Christopher Diebel started Sip Savor Switch in 2011 when, as part of being named "Young Professional of the Year," he was awarded $1,000 to help a local nonprofit. A food and wine event was a natural fit for Deibel as he was Orchestrate Hospitality's marketing director at the time.
That first year, the event was limited to 100 people and raised about $15,000; it's now capped at 130 guests and has doubled its revenue to about $30,000—a significant sum for a relatively small event.
"Planning an event for the Playhouse was a no-brainer for me," Diebel says. "My family moved here from Texas when I was in middle school. I was made fun of for my thick Southern accent, and I got pretty shy. My mom got me involved in the Playhouse to open me up, and I spent middle school and high school being involved in lots of shows there. … It's great for me to be able to raise money for an organization that has done so much for me."
The Des Moines Community Playhouse's Sip Savor Switch will be May 20. Tickets are $125 per person and will go on sale in early April. The 130 available tickets usually sell out in a few hours; join the Playhouse's mailing list at dmplayhouse.com to find out when they become available.
---
Bubble Ball
Soozie McBroom, who served on ChildServe's board of trustees in 2011, had spent months trying to think of a unique event for the organization when she ran across an article about the 50th anniversary of Bubble Wrap. Armed with the article, she suggested a runway show featuring Bubble Wrap creations. McBroom and business executive Jim Willer, co-chairs of the event, soon persuaded 41 local designers and architects to join the effort. The designers came up with a range of creations, from wedding gowns to chandeliers.
Swamped by presale ticket demand for the inaugural event, ChildServe had to book a bigger venue—moving from the former Zart to Embassy Club West—and still sold out in two days. (Bubble Ball moved to Capital Square the following year and now is held at Community Choice Credit Union Convention Center.) The goal for the first year was simply to raise awareness of ChildServe, which provides health care services for thousands of Central Iowa children with special needs. In addition to increasing awareness, 25 corporate sponsors and 367 guests—many incorporating Bubble Wrap into their own attire—generated $67,000 for the organization.
The event, April 8 this year, has continued to grow and evolve, featuring increasingly intricate and impressive Bubble Wrap designs and performances, from elaborate headdresses to an aerial acrobat who incorporated Bubble Wrap into her costume. This year's event will showcase creations from more than 90 designers and is expected to draw more than 1,000 guests and raise some $300,000. This will put Bubble Ball—now ChildServe's signature fundraising event—over the million-dollar mark since its inception.
ChildServe's Bubble Ball will be April 8 at 7 p.m. in the Grand Ballroom at Community Choice Credit Union Convention Center. The runway show will feature specialty performers, including mimes, stilt walkers and acrobats. The Brazilian 2wins also will perform. Tickets are $150 per person, available through childserve.org/bubbleball.
To sponsor a table, contact Cheri Burns at 515.727.8750 or cheribu@childserve.org.
---
Tips for Creating a Can't-Miss Event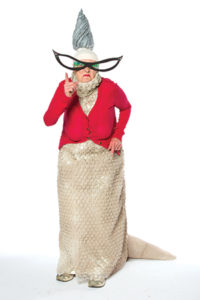 Sip Savor Switch and Bubble Ball are different from each other in many ways, but they both offer lessons for other groups who want to create events that generate fun as well as funds. Want to sprinkle some of their pixie dust over your organization's fundraising event? Here are tips from the groups' volunteers and staff:
Stand out from the crowd. "When we first started thinking about doing the Bubble Ball, we got a lot of raised eyebrows," says Suzanne Case, marketing manager for ChildServe. Those apprehensions were quickly laid to rest: Bubble Ball "is something you won't see anywhere else in the country, and people have it on their Des Moines bucket list. It's something you have to see to believe, but once you see how incredible it is, you can't wait to see what we'll do the next year."
Sip Savor Switch offers unique venues for the event. "You get to see inside people's beautiful homes," says Nikki Syverson, development director for Des Moines Community Playhouse. "Then when you add great food by Des Moines' top chefs with great wine and an intimate group of people, you can't go wrong."
Continuously improve. "Stick with what works, but be willing to change the rest so your event can have new energy each year," Case says. "One of the first lessons we learned was not to be over-themed. The first year I think all of the food was in the shape of a bubble, but we realized that wasn't always easy to eat. You don't want guests leaving hungry. We always look back at the event after it happens and see how we can up our game for next year.
"The first couple years we were worried [Bubble Ball would have] a shelf life," Case adds. "Now it's more than just a runway show. We've incorporated specialty performers and music to keep people's attention and give them a reason to come back."
Make it fun and meaningful for a diverse group of volunteers. "We don't want our planning meetings to feel like drudgery," says Soozie McBroom, who previously served on ChildServe's board of trustees and who, along with Jim Willer, is now an honorary co-chair of the event. "We'll take volunteers out to ChildServe so they can see the great work they do at their facility. We'll meet with designers to see what they're working [on] or meet over a glass of wine. We like to make the planning as much fun as the actual event."
The Sip Savor Switch staff and volunteers work to ensure the evening is easy on the hosts. "A lot of people would be intimidated by throwing a party for 125, but when you have a small army helping you, it's a lot of fun," says Christopher Diebel, who started the event. "We work to pair [the hosts] with chefs and wine that they like. And we pay a service to come clean their house the next day. Getting people to volunteer their homes for this event is usually a pretty easy ask.
"Another important component is a diverse volunteer group," Diebel adds. "When forming an event committee, it's important to include participants with different talents and spheres of influence, [such as] people who are skilled at fundraising and others who are enthusiastic worker bees. Volunteers from the hospitality industry also are valuable additions to the team because they lend important skills and contacts to the overall event."
Make the event appealing to sponsors. "We like to find mutually beneficial opportunities for our sponsors," Diebel says. "Our sponsors get guaranteed tickets and get to bring clients to the event. Sometimes people think it's taboo to talk about getting something out of your donation. The charity should be your primary goal, but I don't think it hurts to think about how [the sponsors'] donation can be mutually beneficial."