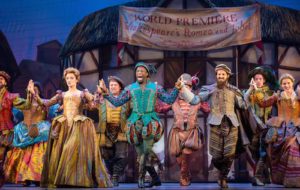 All the "Hamilton" hullabaloo (it's just 15 breathless months away, you know!) has overshadowed recent news of a lot of other fine theater headed our way. These are shows we're eagerly anticipating:
Just this past Saturday, the newly formed Iowa Stage Theatre Company (a union of StageWest and Repertory Theater of Iowa) announced its 2017-18 season including Stephen Sondheim's "Company" and a dramatic examination of a faith community in "The Christians" by Lucas Hnath. A highlight for us will be a revival of the tense drama "A View From the Bridge" by Arthur Miller. For more info on the company and its upcoming shows, click here.
Des Moines Community Playhouse announced a solid 2017-18 season last month, with favorites "The Music Man," "A Chorus Line" and "Ragtime." We're excited by the October debut of a new romantic comedy, "Choices," by local playwright Karen Schaefer, whose first play, the romcom "Girls' Weekend," was well received at the Playhouse in 2014.
This July and August, Pyramid Theatre Company is producing James Baldwin's "The Amen Corner" as well as the challenging drama "Mississippi …" by Jonathan Norton, portraying tensions among families and friends prior to the slaying of Civil Rights martyr Medgar Evers in 1963. Learn more here.
And yesterday, Des Moines Performing Arts had so many new shows to announce (and all the "Hamilton" frenzy to deal with), they switched from their traditional season-announcement event at the Civic Center to a YouTube video production. "We thought it was the best way to share the news with the biggest audience," explained Jonathan Brendemuehl, communications manager. They taped the top-secret presentation, hosted by CEO Jeff Chelesvig, over recent weeks. When it aired yesterday, Chelesvig was actually doing theatrical hobnobbing in New York.
"Hamilton" has earned the attention it gets, of course, and the return of favorites "Chicago" and "Les Miserables" is exciting news, but we're most intrigued by the season's inclusion of "The Humans," which received the 2016 Tony Award for best drama on Broadway. Everything we've heard and read about it has us looking forward to that production. The full DMPA schedule and ticket info are here.