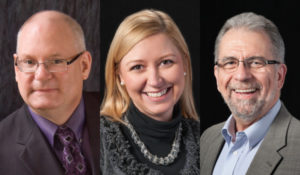 David Kilpatrick has great dramatic timing. For the past seven years, he has led the LaCrosse Community Theatre to its 50th anniversary this season, and he'll be executive director of the Des Moines Community Playhouse for its upcoming centennial.
As part of the local theater's succession plan, effective May 15, Kilpatrick will take the reins from John Viars, who remains as artistic director until his retirement after the centennial in 2019. Viars has played both roles since 1982, but will narrow his focus now to concentrate on selecting, producing and directing plays. This change also allows the Playhouse to transition the duties of managing director Rod McCullough, who is retiring.
Kilpatrick arrives as the Playhouse enters the second phase of a multimillion-dollar capital campaign. He's well prepared, having recently completed an $8.4 million capital campaign in La Crosse. In 2018, the Playhouse will undergo a renovation, including remodeling the auditorium and updating the entire facility. Already immersed in the fund-raising campaign, Playhouse Development Director Nikki Syverson is being promoted to director of advancement.
Kilpatrick will be new to Des Moines, but he's returning to Iowa. Prior to moving to Wisconsin, he was artistic director of the Old Creamery Theatre Company in Amana.
The transition also comes at a high point for the Playhouse, which is reaching record revenue levels. Its current hit, "The New Mel Brooks Frankenstein," plays through April 9.