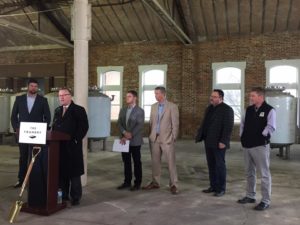 A onetime railroad car repair barn, built in Valley Junction in 1899, is on track to become The Foundry, a social destination focused on food and spirits.
We attended the groundbreaking ceremonies recently to learn more about the concept, which will roll out over the course of the next six to 12 months. The Foundry will include a nonprofit commissary kitchen for local food truck operators and caterers, a public Food & Beverage Hall and an on-site distillery, Foundry Distilling.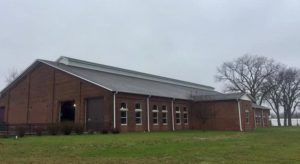 The Hall will serve as the nucleus of The Foundry, providing a unique opportunity to experience a variety of food truck menus and an assortment of craft beers and cocktails, as well as live entertainment, according to Jorgen Jensen of Rock Island Development Co. The concept blends a contemporary flair with a nod to traditional European beer halls, Jensen explained.
The Justice League of Food — a nonprofit serving the homeless and the hungry by offering skills training and job placement services — will operate The Kitchen at The Foundry.
"The Kitchen is the heart of The Foundry, carrying out the mission of the Justice League of Food," founder Nick Kuhn said. "If The Kitchen is the heart of The Foundry, The Hall will be its soul, bringing together food, beer and conversations."
Foundry Distilling Co. will occupy the east end of the building, featuring a variety of distilled spirits as well as retail and event space. "We are thrilled to unveil this entirely new concept to Des Moines," said distillery owner Scott Bush.
An interesting detail: Foundry Distilling Co. will offer whiskey enthusiasts an opportunity to make barrels of whiskey using their own recipe. Reservations can already be made
here
.