Writer: Wini Moranville
Photographer: Duane Tinkey
Chef's Palette
Art Center Cafe
Need some inspiration? Sit yourself down on the patio of Chef's Palette at the Des Moines Art Center (pictured above), and contemplate the Carl Milles sculpture at the center of the granite reflecting pool. Think about this: While Pegasus can fly, our human potential—signified by the man sailing above that mythic winged horse—soars even higher. And if that doesn't do the trick, gaze up above the I.M. Pei wing to the shimmering trees of Greenwood Park, and tap into the restorative power of nature itself.
Indeed, there's something about dining on that terrace that always makes me feel both invigorated and at peace. I usually take in at least one gallery exhibition after a lunch there, or perhaps wander through the rose garden out back to sustain that calm-yet-inspired state of mind.
Chef/owner Rosie Punelli's menu changes weekly and brings a limited selection of well-crafted homemade dishes, including two soups, a salad, a sandwich and a pasta. Her creations are at their best when they come with thoughtful twists and turns, such as a dill pickle aioli and tomato jam tucked inside a meatloaf sandwich.
(4700 Grand Ave.; 515.277.4405)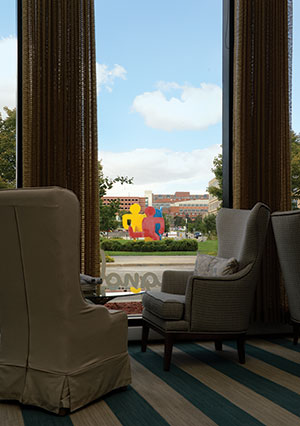 Magnolia Wine Kitchen
Magnolia Wine Kitchen's gracefully modern decor provides a joyful counterpoint to the industrial, hard-edged feel of so many eateries these days. Step inside, and the fresh cream-and-aqua color scheme will immediately lift your spirits. It only gets better when you snag a table with a view out the floor-to-ceiling windows bordered by shimmery gold curtains. There's big-city energy on the streetscape outside, and beyond, the John and Mary Pappajohn Sculpture Park captures your gaze, with Keith Haring's jubilant portrayal of three dancing figures most prominently in view.
Frankly, the food is not as sophisticated or refined as the setting. Most of what comes to the table is more bar-grill than bistro, which will do for a casual, any-day lunch. But for an experience that lives up to the environs, next time you have an afternoon free, schedule a good, long lunch with a BFF or two and settle into the slip-covered wingback chairs at one of the low tables next to the windows. Linger into the afternoon with a bottle of prosecco and a selection of shared plates. Afterward, take some time to float through the sculpture garden on your post-lunch lift.
(1420 Locust St.; 515.635.0952)
Trellis at the Greater Des Moines Botanical Garden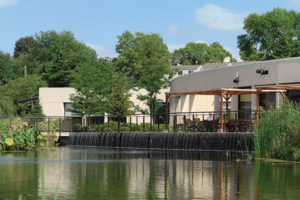 A great dining experience can leave you feeling many good things—relaxed, gratified, delighted or even dazzled. When I leave Trellis at the Greater Des Moines Botanical Garden, more than anything else, I always feel so alive.
If it's a patio-perfect day, sit outside on the terrace, which overlooks the water garden, flourishing with water lilies, water irises and three islands of lush tropical and seasonal plants. Below the terrace, a sweeping rill of water flows into the aquatic garden, adding subtle but insistent energy to the scene (water is, after all, a stirring symbol of life). A panorama of downtown Des Moines lies beyond—our natural and cultural worlds coming together in one view.
Chef Lisa LaValle is the grande dame of inspired lunches in this town. For nearly two decades, she oversaw the Des Moines Art Center Restaurant with aplomb. When she launched Trellis in late 2013, her fans gladly followed. She describes her cooking style as "creative cuisine from the plant world," and indeed, grains, legumes and veggies crowd the menu in dishes such as Mayan corn salad and Moroccan red lentil pasta. But meaty entrees—from a Cuban sandwich to pasta with beef brisket and blue cheese—keep carnivores plenty satisfied, too.
(909 Robert D. Ray Drive; 515.323.6288)